Guaranteed tour Uzbekistan 8 days with fixed dates 2021
Uzbekistan tour for guaranteed dates.
Guaranteed tour to Uzbekistan with Tashkent, Samarkand, Bukhara, Khiva, Urgench, cities with unique historical mosques, madrasahs, minarets.
Experienced guides with extensive knowledge of history, culture, traditions about Uzbekistan will accompany you on guaranteed tours in Uzbekistan. We advise you to hurry up with the choice of the tour date to successfully register for a guaranteed tour to Uzbekistan since guaranteed tours to Uzbekistan are in great demand.
The itinerary and terms of a guaranteed tour to Uzbekistan: if they do not meet your needs, write to us, and we will adjust the program and date of the tour, taking into account your ideas, interests, and time.
Guaranteed tour to Uzbekistan with 20% cashback.
TOP tour Uzbekistan with guaranteed dates.
The real Uzbekistan tour.
Day 1 Tashkent (Dinner)
Upon arrival at Tashkent airport, the transfer manager will meet you and take you to a cozy and modern hotel 3*. After 13:00, the hotel staff will kindly help you check into your room. Before dinner, you will have time to explore the city on your own. Tashkent, the center of Central Asia, is the most beautiful capital of the entire region. Very hospitable people live in Tashkent. The best restaurants, museums, nightclubs are concentrated in Tashkent. In the evening, during a delicious dinner at a restaurant with national cuisine, the accompanying guide will reveal the details of the tour program in Uzbekistan. You will learn about further plans for a joint trip and get to know other tour participants. On the way to the hotel, you will visit the observation deck from where a beautiful view of "Tashkent City" is opened.
Day 2 Тashkent – Samarkand (Breakfast, dinner)
After an early breakfast, transfer from the hotel to the Tashkent railway station, at 07:30 departure by Afrasiab train to Samarkand. Arrive in Samarkand at 09:30 transfer to hotel 3*. Uzbeks, Tajiks, Persians, Jews, Russians, Tatars live side by side in Samarkand, and they all adopted some cultures and traditions from each other. Since Samarkand was the pearl of the Silk Road, wealthy merchants spent more time in Samarkand than in other cities on the Silk Road. Alexander the Great, Genghis Khan, and Timur, who made Samarkand the capital of his empire, left unforgettable stories about Samarkand. Today, making a tour of Samarkand, you will visit the very heart of Samarkand, Registan Square, which consists of three amazingly beautiful madrasas - Ulugbek, Tilya-Kori, Sherdor. Visit also the Gur-Emir mausoleum, the Bibi-Khanum mosque, the Shahi-Zinda ensemble, which will reveal their secrets to you. The Ulugbek Observatory will share the beauty of the stars, and the mausoleum revered by Muslims, Jews, Christians will charge you with positive energies. Dinner at the Karimbek restaurant will delight you with juicy lamb and fresh cucumbers.
Day 3 Samarkand – Bukhara (Breakfast, dinner)
Breakfast at the hotel, transfer to the station, departure by Afrasiab train to Bukhara at 09:50. Arrive by Afrosiab train to Bukhara at 11:19, meeting, transfer to the hotel 3* for check-in and short rest. Bukhara is the most sacred city in Central Asia. On December 21, 1993, UNESCO included the old part of Bukhara in the UNESCO heritage list. The city has architectural buildings with a thousand-year history. Bukhara carpets were fabulous commodities during the period of rapid development of the Great Silk Road. Sufi Naqshbandi order was founded in Bukhara, for Sufi pilgrim's city is very important to visit. Bukhara is one of the best places in Central Asia for exploring pre-Russian Turkestan. It takes at least two days to see the main sights of Bukhara. During a tour of Bukhara, you will be amazed by the Samanid mausoleums and Chashma Ayub, the Bolo-Hauz mosque, and the Poi-Kalyan complex. The Ark fortress and the old madrasas of Abdulaziz-Khan, Ulugbek, Kukeldash, Nadir-Divan-Begi will make you think about important things. The trade domes and the Lyabi-Hauz ensemble with the statue of Nasreddin Khoja will delight you. Dinner in a private house with a master class on cooking Bukhara pilaf consists of meat, onions, rice, spices.
Day 4 Bukhara (Breakfast, dinner)
Having breakfast with pleasure, you will go to admire the suburban objects of Bukhara. Today the program includes a walk through the Sitorai Mokhi-Khosa palace, an acquaintance with the mausoleum of Bahauddin Naqshband, the Chor-Bakr necropolis. And also a walk through the narrow streets of the old city where you can take unusual and unforgettable photographs. Dinner at the Lyabi Hauz restaurant with delicious national dishes.
Day 5 Bukhara - Khiva (Breakfast, dinner)
After breakfast, drive to Khiva through the Kyzylkum desert. On the way, there will be a stop where you can see the Amu Darya River. Arriving in Khiva, check into a cozy hotel 3* with an excellent location in Ichan-Kala. Khiva is a friendly and welcoming old town on the Silk Road. Khiva is famous for its historic fortress city Ichan-Kala. Fortress Ichan-Kala, on 30 hectares, has 54 colossal historical sites and 250 historic houses. Ichan-Kala was the first site in Uzbekistan and Central Asia to be included in the UNESCO World Heritage List in 1990. Dinner at the national house Zarafshan will delight the khan's dish Tukhum-Barak.
Day 6 Khiva (Breakfast, dinner + folklore show)
After breakfast, a walking tour of Khiva will introduce you to the unfinished minaret, the Muhammad Amin-khan madrasah, the Kunya-Ark fortress with summer and winter mosques, a harem, and Ak-Sheikh-Bobo bastion. You will also get acquainted with other sights of Khiva, step by step, accompanied by a guide, the list of which includes: Madrasah of Muhammad Niyaz Divanbegi, Mausoleum of Said Allauddin, Madrasah of Kozi-Kalon, Madrasah of Muhammad Rahim Khan II, Juma Mosque with 218 unique wooden columns, Yunus Mosque -khan, Pakhlavan-Mahmud mausoleum with a beautiful turquoise dome, Shergazy-khan madrasah, 57-meter minaret and Islam-Khoja madrasah, Ak mosque, Anush-khan's baths, Ala-Kuli-khan madrasah with a caravanserai and a bazaar, Tash palace -Khauli and the city walls of Ichan-Kala, clay walls of the 18th century with a length of 2.5 km. The day in Khiva ends with dinner in the summer residence of Khiva Khan Toza Bog with a folk show.
Day 7 Khiva - Urgench - Tashkent (Breakfast, dinner)
Early breakfast transfer to Urgench Airport for flight HY057 to Tashkent at 09:00. Arrive at 11:00 at Tashkent airport and transfer to the 3* hotel. After resting and gaining strength, you will go on an excursion around Tashkent to see the Khast-Imam ensemble with several mosques and madrassas, one of which carefully stores the hair of the Prophet Muhammad and the original Ottoman Koran of the 7th century. Walk around the Chorsu bazaar, get to know the grandeur of the Tashkent TV tower, think about the eternal at the Memorial to the Victims of Repression and the Monument of Courage. Amir Timur and Mustakillik squares will tell interesting things, and the Museum of Applied Arts with unique exhibitions will be remembered for a long time. Farewell dinner at the restaurant "Nur" during the farewell dinner, you can also dance to your heart's content before leaving friendly Uzbekistan.

Day 8 Tashkent (Breakfast)
After breakfast, the transfer will get you to the airport, where you will check in for your return flight home.
Buy Now! Click the Buy button, pay online and get a momentary voucher for the tour to Uzbekistan.
Subscribe to our
Telegram
channel.
The health and safety of tourists, employees, and their loved ones has always been one of our priorities. https://caj.uz takes the following measures to ensure the safety of tourists, as well as minimize the risks associated with the spread of the coronavirus COVID-19 during a tour of Uzbekistan;
✅ we explain to the service personnel (guides and drivers) and tourists about the features of this virus;
✅ we provide tourists with personal protective equipment: gloves, masks, and an antiseptic during a tour of Uzbekistan;
✅ every day, before starting work with tourists, we screen the body temperature of service personnel (guides and drivers) and tourists;
✅ we provide to the service personnel (guides and drivers) working with tourists: gloves, antiseptics, and a supply of disposable protective masks that change at least once every 3 hours;
✅ the driver of the transport disinfects twice a day - in the morning and the evening - the door handles and the interior of the car;
✅ we place flyers on vehicles reminding tourists and service personnel (guide and driver) of the importance of washing and disinfecting hands;
✅ we regularly remind tourists to report the occurrence of high fever, coughing, and/or shortness of breath to the attendants (guides and drivers).
Tour code
Date and price
Reserved
UZG1107

$850

11.07.2021

0 pax
Buy
UZG0808

$850

08.08.2021

3 pax
Buy
UZG2208

$850

22.08.2021

0 pax
Buy
UZG1909

$850

19.09.2021

2 pax
Buy
UZG2609

$850

26.09.2021

1 pax
Buy
UZG1010

$850

10.10.2021

0 pax
Buy
NAV22

$850

20.03.2022

0 pax
Buy
UZG1004

$850

10.04.2022

0 pax
Buy
UZG0805

$850

08.05.2022

0 pax
Buy
Price for 1 pax
Accommodation in 3* Hotel
Included / Not Included
Tour price includes;
accommodation in a standard double/twin room;
train tickets Tashkent – Samarkand, Samarkand - Bukhara, economy class;
air ticket Urgench – Tashkent, economy class;
meals according to program (breakfast and dinner);
all excursions according to the program, with an accompanying guide in English (if necessary, a guide is provided in German, Spanish, Italian, French, Turkish, Japanese, Korean, Chinese, and Russian);
cost of entrance tickets, according to the program;
air-conditioned transport for the whole tour;
one bottle of mineral water (1.5 liters) per person for each day of the tour;
photo & video costs during the city tour program;
a folklore show in Khiva;
visa support to Uzbekistan (if necessary).
Tour price does not include;
early check-in and late check-out from the hotels;
personal cash expenses;
excess baggage, which is more than 20 kg;
travel insurance;
visa cost to Uzbekistan.
Upcoming tours to Uzbekistan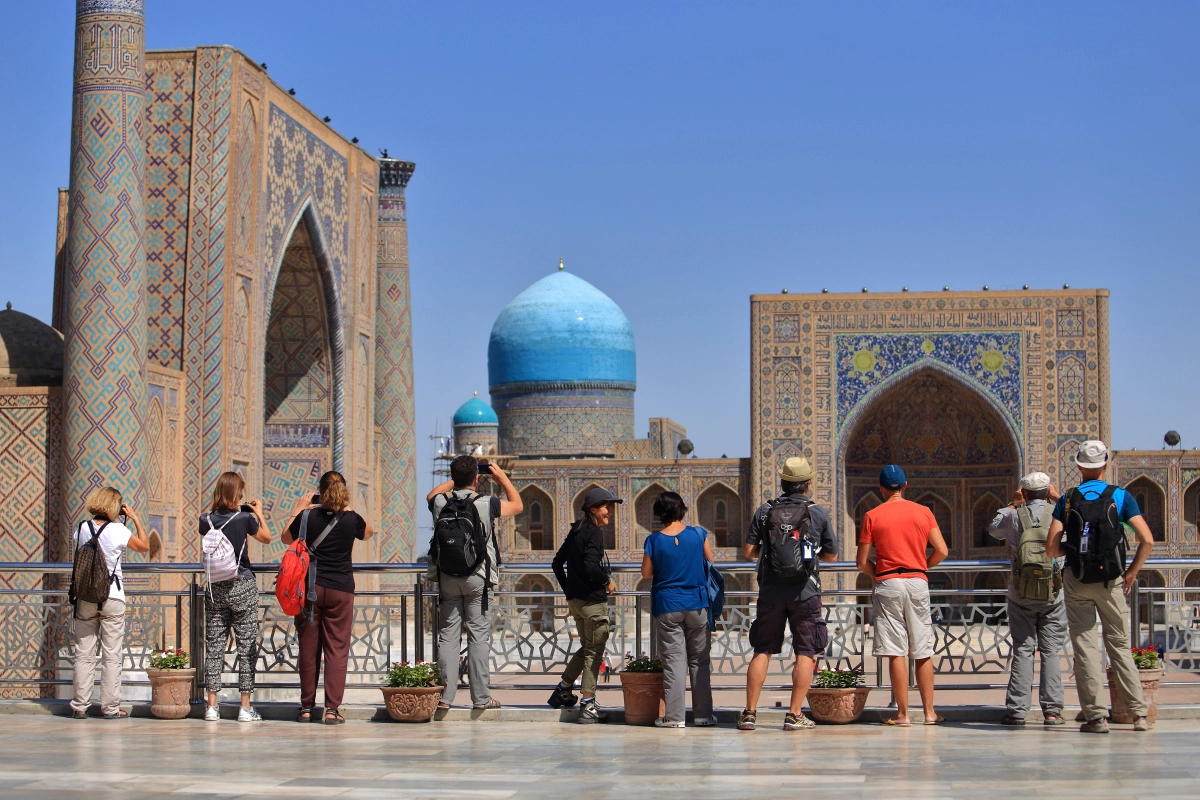 Step back in time and travel along the Silk Road, visit beautiful Samarkand, blessed Bukhara, Khiva from the 1001 nights fairy tale, and discover delicious Uzbek cuisine on an 8 days Uzbekistan tour.
Buy tour 08.08.21 - 15.08.21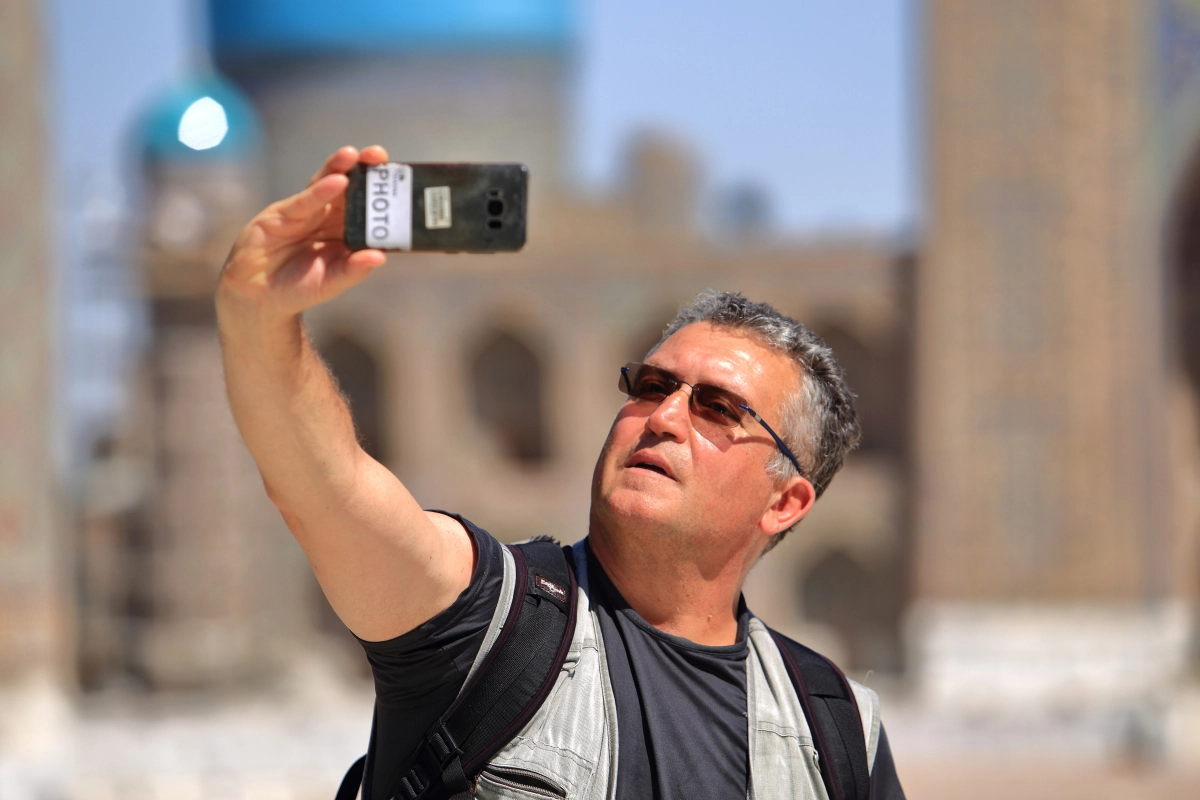 Samarkand, Bukhara, Khiva, and Tashkent will not only showcase their unique monuments but also allow you to learn about the daily life of Uzbeks and other nationalities living in these cities on an 8 days tour of Uzbekistan.
Buy tour 19.09.21 - 26.09.21